Brussels, 8 December 2020
On November 16, 2020, the governments of Poland and Hungary vetoed the adoption of the Multiannual Financial Framework (MFF) 2021 – 2027 draft, and the proposed Decision on Own Resources, after verifying the existence of a sufficient majority in the Council to approve the Regulation on the conditionality of the Rule of Law in the framework of access to European funding.
"It is absolutely unacceptable to put the Union's long-term budget and the Recovery Plan at risk by two EU governments that do not believe in European principles. Any move that aims at preventing the existence of a conditionality on the Rule of Law linked to the access to structural funds should not be rewarded. The protection of the Union's fundamental values cannot be traded!"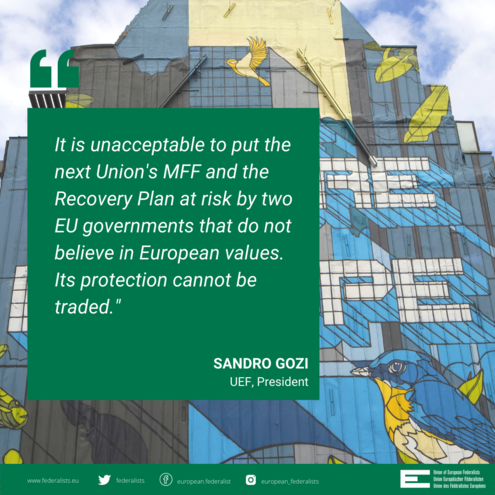 Ahead of the European Council on December 10 and 11, the Union of European Federalists (UEF) calls on the Hungarian and Polish governments to withdraw their veto. It is imperative to launch a global package of 1.8 billion euros, of which Poland and Hungary will also be great beneficiaries, provided that their governments respect the fundamental values ​​of the Union.
Otherwise, UEF urges the Council to launch the Recovery Plan, by adopting by a Qualified Majority Vote the "Next Generation EU" Regulation, regarding the issuance of debt worth 750,000 million euros. This proposal is based on article 122 of the Treaty on the Functioning of the European Union (TFEU), and with the support, if needed, of complementary national guarantees.
The other related regulations set to channel the Recovery fund, particularly the Regulation of the Recovery and Resilience Facility, as well as the budget corresponding to the year 2021, could also be adopted by QMV in Council. This could be done without prejudice to the extension of the current MFF, and in full respect of article 310.4 of the TFEU.
Alternatively, UEF proposes that the European Council and European Commission consider the launch of an enhanced cooperation under article 326 TFEU, given that full involvement of the European Parliament can be guaranteed.
"This situation is but the umpteenth example of the practical and democratic difficulties posed by the unanimity mechanism when making fundamental decisions about the multi- year budget and its revenues, fiscal harmonization, and foreign policy, among other critical policy areas, within the Council. It is essential to address, in a federal fashion, the reform of the Lisbon Treaty in the framework of the future Conference on the Future of Europe", UEF President Sandro Gozi concludes.